Uttar Pradesh government will launch a new scheme named you commission rojgar .this scheme has been giving 50 lakh employment opportunities to jobless aspirants.hair in this article we will update you about mission Rozgar campaign employment database help desk job fairs and all the complete details. Uttar Pradesh government will launch mission rojgar  after Diwali festival.the Uttar Pradesh State government will give 5000000 employment opportunities to jobless cubes till March 2022.
The scheme is only for educated unemployed candidates. It will be targeted at largely those who have lost their job during a pandemic outbreak.This scheme will be implemented by chief minister Yogi Adityanath from the grass-root level. it is required to implement mission rojgar due to economic problems during this pandemic. They will provide these opportunities to unemployed youth in the next 4.5 months.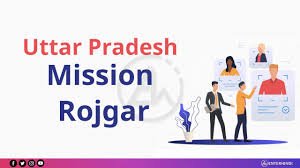 Up mission rojgar 
Under this mission unemployed youth and those who have lost their jobs during covid-19 pandemic outbreak in the past few months. They will get a chance to apply for jobs. Aspirants will be able to feel the application or registration form for jobs in Government departments ,councils ,cooperation among others.The State Government of Uttar Pradesh will collaborate with the private sector for creating jobs only for unemployed youth in the state.
UP Mission Rojgar Yojana 2020 In Highlights
| | |
| --- | --- |
| योजना का नाम | यूपी मिशन रोजगार |
| इनके द्वारा लॉन्च किया गया | मुख्यमंत्री योगी आदित्य नाथ जी के द्वारा |
| उद्देश्य | राज्य के युवाओ को रोजगार प्रदान करना |
| लाभार्थी | यूपी के बेरोजगार युवा |
Uttar Pradesh Mission Rojgar Yojana Online Registration Process
As per the official government data, UP had about 34 lakh, unemployed persons, till February 2020. In the first few months of the nation-wide COVID-19 lockdown, around 40 lakh persons had returned to UP from various states where they had been employed.
The Uttar Pradesh government has set a target of creating more than 50 lakh jobs in the public and private sectors by March next year. Through "Mission Rojgar", more than 50 lakh youth will get the opportunity to apply for government departments (Sarkari Jobs) as well as private-sector jobs by March 2022.
Official record of unemployed youth:
As per the official record of the government, up had almost 34 lakh unemployed persons till February 2020.

During covid-19 lockdown about 40 lakh persons returned to UPP from various States where they were working.

Half of the migrants out of total are skilled semi skilled or unskilled labour.

The state government has been given the direction by the officials to fix the action plan for rolling out the up mission rojgar scheme.

Through this mission, the Uttar Pradesh government I will help you become self employed and they are linking it with the Atma Nirbhar Bharat scheme of the centre.
UP Mission Rojgar  Help desk for jobless youths:
Yogi Adityanath government has told that unemployment helpdesk must be set up in every department and in all organisations. They will tell you information about the various employment programs that is run by various departments and possible job openings.
Creation of records of job opportunities:
The state government of Uttar Pradesh will create a database of employment opportunities for aspirants. The Directorate of Training and Employment developed a web portal for this purpose.This record is related to employment.will be updated on the portal each fortnight.
Job fair in up mission Rojgar portal:
The concerned department of Uttar Pradesh has been given the direction to all directories corporations boards commissions for appointing a nodal officer to keep record of the progress and coordinate between various stakeholders.

The consent apartment of Uttar Pradesh appointed the infrastructure and industrial development commissioner so that they oversee and coordinate the permission rojgar campaign at a time

.directorate of training and employment authorities will collaborate employment features and resolve all pending recruitment issues in every aspect.
यूपी मिशन रोजगार 2022 ऑनलाइन आवेदन कैसे करे ?
राज्य के जो इच्छुक लाभार्थी इस यूपी मिशन रोजगार 2022 के अंतर्गत रोजगार के अवसर प्राप्त करने के लिए आवेदन करना चाहते है तो वह नीचे दिए गए तरीके को फॉलो करे |
अब आपके सामने होम पेज खुलकर आएगा।

होम पेज पर आपको यूपी मिशन रोजगार ऑनलाइन आवेदन के लिंक पर क्लिक करना होगा।

इसके बाद आपके सामने आवेदन फॉर्म खुलकर आएगा।

आपको इस आवेदन फॉर्म में पूछी गई सभी महत्वपूर्ण जानकारी दर्ज करनी होगी।

अब आपको सभी महत्वपूर्ण दस्तावेजों को अपलोड करना होगा।

इसके पश्चात आपको सबमिट के बटन पर क्लिक करना होगा।

इस प्रकार आप यूपी मिशन रोजगार में ऑनलाइन आवेदन कर पाएंगे।