Tamilnadu government has taken initiative named Tamilnadu Amma mini clinic Scheme 2022. Tamilnadu Government told the plan which is related with 2000 mini clinics to be established in the state for strengthening the health infrastructure.The chief minister of Tamil Nadu Mr k.palaniswami has launched this mini clinic scheme on 14 December 2020 for staining the health infrastructure further.Today,we will share with you about the Amma mini clinic scheme 2022 and its complete information. So,please read this full article till the end.
There are almost 1851 primary health centres which are currently active in the state of Tamil Nadu till now. Tamil Nadu Chief minister started the TN Amma mini clinic scheme 2020 in Chennai. The major aim is to operate hospitals in areas with less than 30,000 population.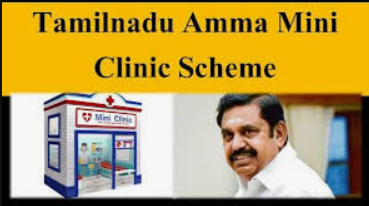 Tamil Nadu Amma mini clinic scheme
1st phase of Amma mini clinic scheme:-In the first phase of the Tamilnadu Amma mini clinic scheme, Chief minister palanisamy introduced mini clinics at royapuram,vyasarpadi and mayapur Chennai. On the other hand,other government officials are establishing centres at 200 locations in Chennai. Almost 2000 mini clinics will be established across the state.
Tamil Nadu Amma Clinic Scheme
Name of the scheme

Tamil Nadu Amma Clinic Scheme

Launched by

Chief Minister K Palaniswami

Launched for

The poor people of the state

Launched Date

14 December 2020

Objective

To provide health facilities all over the state

Benefits

The clinics will contain doctor, nurse and health Assistant for regular check up

Number of Hospitals

2000 Mini Clinics

Facilities

Doctors, Nurses, Health Assistant and Health Equipments

Operate Time Of Clinics

8 am to 12 noon & 4 pm to 8 pm

Budget

Rs. 20 Crore

Mode Of Application

Not Yet Declared

Official Website
TN Amma Clinic Scheme Objective:-
As we know ,there are many areas where poor people live and if they are badly affected by some disease they cant visit private hospitals or clinics for consulting with doctors regarding their disease.

Tamil Nadu Chief minister Mr k. palaniswami started the Amma clinic scheme to keep this in mind.

The government will create 2000 clinics all over the state to deliver access to doctors for consultation through the scheme.however equipment facilities will also be given to check temperature blood pressure hemoglobin levels and blood sugar levels after completing hemoglobin and urine tests.
Key features of Tamil Nadu amma mini clinic:-
Tamil Nadu Chief minister launched the tamilnadu Amma mini clinic scheme on 14 December 2020.

Tamil Nadu Chief minister will introduce 2000 clinics across the state under Tamilnadu Amma mini clinic 2022.

These clinics should have a doctor,nurse and medical staff to facilitate regular checkups.

This type of clinic will be equipped with doctors and other facilities like hemoglobin levels ,blood pressure labels and urine tests.

Prime minister Mr Narendra Modi has appreciated tamilnadu Government for its outstanding performance

These clinics were set up for the poor people of the state.

Now economically backward people will not have to visit their money while going to private hospitals.

The plan will provide a game-changer against the coronavirus pandemic.
TN Amma Mini Clinic Timing
The timing of functioning of these clinics are as follows
8 a.m. to 12 noon (Morning

4 p.m to 8 p.m (Evening)
List of documents:-
Mobile number.

Aadhar Cards.

Address identity.

Voter ID card.

Recent passport size photograph.
Eligibility criteria:-
Applicants must be a resident of tamilnadu.

People of the state must be an economically weaker section.

Candidates must have a BPL Ration card.
Process To Apply For Tamil Nadu Amma Mini Clinic Scheme
All interested and eligible candidates who wish to apply for Tamilnadu Amma mini clinic scheme will have to wait for sometime as the government started the scheme.The application procedure of the scheme has not yet been released.The government officials will launched the application process with the applicant as soon as possible.We will share with you all relevant information about the scheme through this article.
TN Pongal Gift Ration Shop 2022
Amma Mini Clinic 2022 FAQ's
What is the objective of the recently announced Tamilnadu Amma Mini Clinics in the state?
The main objective of launching the Amma Mini Clinics is to help the ordinary people of the state to access treatment for common ailments without visiting the private clinics.
What are the timings of the Amma Clinics announced by the Chief Minister of Tamilnadu Mr K Palaniswamy?
The Amma clinics will function from 8:00 AM to 12:00 PM and 04:00 PM to 08:00 PM.
What are the services that the citizens can avail at the Amma Clinics?
The citizens of the state can avail of the medical attention of the doctors for common ailments such as Fever, Cold, Headache etc.