Haridwar Kumbh Mela 2021 official website|Haridwar Kumbh Mela 2021 starting date|Maha Kumbh Mela|haridwar kumbh mela 2021 shahi snan dates
As per the record of Hindu mythology, Kumbh Mela is the Hindus greatest festival in the year.After every 12 years,this Kumbh Mela 2021 is celebrated in different places of India.At the shore of Ganga river,Shipra river and Godavari river, this festival will be celebrated for pilgrimages. On the other hand, Haridwar in Uttrakhand, Ujjain in Madhya Pradesh, Nashik in Maharashtra and prayagraj Uttar Pradesh are the best places for kumbh Mela celebration.
During the coronavirus outbreak, the central government is taking so many safety measures to control the crowd in the Mela premises.Recently, Haridwar Kumbh Mela 2021 registration process has started.Here in this piece of writing, we will share complete information related to kumbh Mela 2021. In other words, we will tell you important dates for kumbh Mela shahi snan and pramukh snan.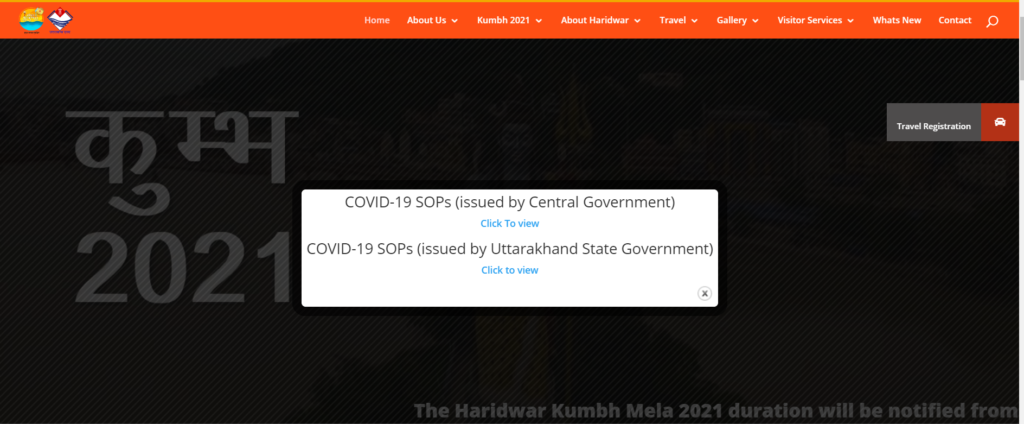 Preparation of Kumbh Mela
Uttarakhand Chief Minister Mr Trivendra Singh Rawat declared an Upper level meeting with high official authorities.However, an instruction has been managed by the official authorities and it includes information which is related to Makar Sankranti Snan. This Snan will be held on 14 January 2021. Due to covid-19 Pandemic, the state government has taken various safety precautions for visitors which includes Cleanliness, Social distancing and Proper management.The state government is promoting better services in the forthcoming Haridwar Kumbh Mela 2021 festivals to the people of the various states.
The state government has constructed different parking slots and roads. More police and responsible authorities are hired by the concerned department of the government sector.On the other hand,Ghats,Bus stand, Railway station and more than thousands temporary bathrooms have been established for managing the situation due to coronavirus outbreak.
Uttarakhand Kumbh 2021 Mela Information
| | |
| --- | --- |
| त्यौहार का नाम | कुंभ मेला 2021 |
| जगह का नाम | Haridwar (Uttarakhand) |
| Kumbh Mela Start Date | 14th January 2021 |
| Kumbh Mela Last Date | 27th April 2021 |
| Shahi Snan शाही स्नान के दिन | 4 स्नान (11 March, 12, 14 & 27 April 2021) |
| Prmukh Snan प्रमुख स्नान के दिन | 6 स्नान (14 January, 11 ,16, 27 February, 13 & 21 April 2021) |
| कुंभ मेला 2021 रजिस्ट्रेशन | Available |
| अप्लाई कैसे होगा | ऑनलाइन |
| Kumbh Mela Haridwar Registration | Start |
| Official web site ऑफिसियल वेबसाइट | www.haridwarkumbhmela2021.com |
Instructions follow up:-
Uttarakhand government authorities have announced some d0 and don& for pilgrims who were thinking to visit Haridwar Kumbh Mela 2021. They need to follow the below mentioned instructions carefully.
 Devotees should follow the guidelines regarding coronavirus outbreak.

They must wear a mask.

Applicants should register themselves before going to the Kumbh Mela prangan.

Applications will have to read all necessary information from the official website of
Haridwar Kumbh Mela 2021 
Applicants must keep an emergency contact number.

If you see any suspicious object or activity pilgrim, you will have to contact administration immediately.

You cannot use soap, detergent or any disposable pujan samagri in the river.

You will not pollute the Ganga river.

You can not carry any baggage aur valuable things while travelling.

You will always have to use the public toilet.

You can not take any things from strangers.
Haridwar Kumbh Mela 2021 Registration process:-
First of all,you have to navigate the official website of Haridwar Kumbh Mela 2021.
On the webpage, a link of registration will be activated.

After that, you can press on this.

Then, you will see a registration page in front of you on the screen.

Devotees will fill the form along with essential details such as name,gender, address, identity proof, mobile number and other information also.

After completing the verification, an OTP number will be provided to your registered mobile number.

After successful completion of the registration process,the candidates will get the date and time slot for visit.

If you want to to download the registration from, you can take a printout for future use.

This letter can be used when the applicant& visit Haridwar Kumbh Mela 2021.
Haridwar Kumbh Mela Registration 2021 FAQ's
What are the official dates of the Haridwar Kumbh Mela Festival 2021? 
The Haridwar Kumbh Mela takes place between 14th January 2021 and 14th April 2021.
How to Register Online for the Haridwar Kumbh Mela on the official portal?
There is no official registration form available on the Haridwar Kumbh Mela Portal for online registrations.
Do the temple officials have given any Covid 19 Guidelines for the pilgrims visiting the Kumbh Mela? 
Yes, the temple officials have given strict guidelines regarding the Covid 19 for the pilgrims on the official web portal.